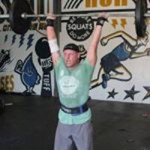 In this episode @kpett sits down to interview Jeremy Ching. Jeremy is a CrossFit athlete that trains at CrossFit Mobile.
Jeremy is a amateur MMA fighter that has transitioned to Crossfit. We discuss nutrition and training volume.
Please subscribe to the show, or feel free to download the MP3 directly.
Share the show on Twitter, Facebook, Google+.
Show Notes:
Reach out to Jeremy on Instagram