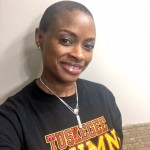 In this episode @Krishna sits down with Tiffany aka ProacTiff from our twitter family..
Tiffany lives in Atlanta, GA
Please subscribe to the show, or feel free to download the MP3 directly.
Share the show on Twitter, Facebook, Google+.
Show Notes:
Tiffany Maxwell has the most important job in all creation—mom to them. Wife to him. Reader of nonfiction and self-help. Writer of truth and memoir obsessed. Currently working on a memoir to add to her meager publishing credits.
Connect with Tiffany on social media