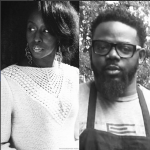 In this episode Keidrick and Krisha discuss tips on how not to ruin all your hard work from the year on Turkey day.
Shout out to Vitamin M Box for the collab this month. Be sure to check them out.
Please subscribe to the show, or feel free to download the MP3 directly.
Share the show on Twitter, Facebook, Google+.
Show Notes:
Have Healthy Alternatives at Your Fingertips:
When I start my holiday meal shopping, I always make sure I purchase at least one full day of Paleo meals for the after holiday reboot. Buy lots of in-season fruits and vegetables and prep meals that can go from freezer to oven without too much work.  This tip helps my family get back on track ASAP because there is little thought into what's to eat.