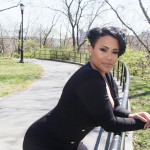 In this episode @Krishna sits down with Crystal S. Roman.
Please subscribe to the show, or feel free to download the MP3 directly.
Share the show on Twitter, Facebook, Google+.
Show Notes:
Connect with Crystal on Social Media
Website/Blog- http://blacklatinamovement.com
YouTube- http://www.youtube.com/user/BlackLatinaMVMT
FaceBook- http://www.facebook.com/BlackLatinaMovement
Twitter- Business @OfficialBLMvMt Personal @MissBlackLatina
A native New Yorker, Crystal Shaniece Roman attended New York City's American Academy of Dramatic Arts while pursuing her Bachelor of Arts in Marketing and Management at the College of Staten Island. In 2008 Ms. Roman launched The Black Latina Movement, LLC (BLM) and began performing BLM's first written theatrical piece: a one woman show about the lives of dark-skinned Latinas and African American Latinas entitled Black Latina. In early 2013 Black Latina received a new format featuring an all female ensemble cast; during the fall the revamped Black Latina saw the success of multiple sold out shows. Ms. Roman produced and directed Memoirs of a Black Latina, which premiered in the Texas Black Film Festival, the International Women's film Festival in California, and screened at the 4th Annual African American Conference in Harlem. The film was also screened at the 2010 Dominican Independence Day event hosted by Queens Councilwoman Julissa Ferraras. Memoirs of a Black Latina was screened at the 2011 Pan-African Women's Action Summit and aired on Minnesota's Comcast channels for Hispanic Heritage Month.
In 2010 Ms. Roman began crafting her first off-Broadway production: an all-Black Latino/African American production entitled The Colors of Love. In 2011 she expanded on The Colors of Love franchise and co-wrote 5 episodes for season one of its television series. In 2013 Black Latina the Play kicked off its college tour at Hamilton College and The Color of Love webseries was an official selection of both the Ocktober Film Festival and the 12th Urban Mediamakers Film Festival.
Ms. Roman has also expanded her philanthropy work, appearing as a plenary guest speaker at the 2011 Minneapolis Pan-African Women's Action Summit. Ms. Roman was a panelist at the 2012 Black Latino Consortium at Morgan State University in Baltimore Maryland (where Memoirs of a Black Latina was also featured). In 2013 Ms. Roman was featured at speaking engagements for Latino Authors and Writers and at Byrn Mawr College Reshaping Representation: Afrolatinas Creating Positive Media.
Between 2014 through this year Black Latina the play has performed at Penn State University, Community College of Baltimore College-Essex, Lehigh University, The Smithsonian Institute, University of Southern California and Eastern New Mexico University.